Top 7 Timeless Interior Design Trends  
January 27, 2023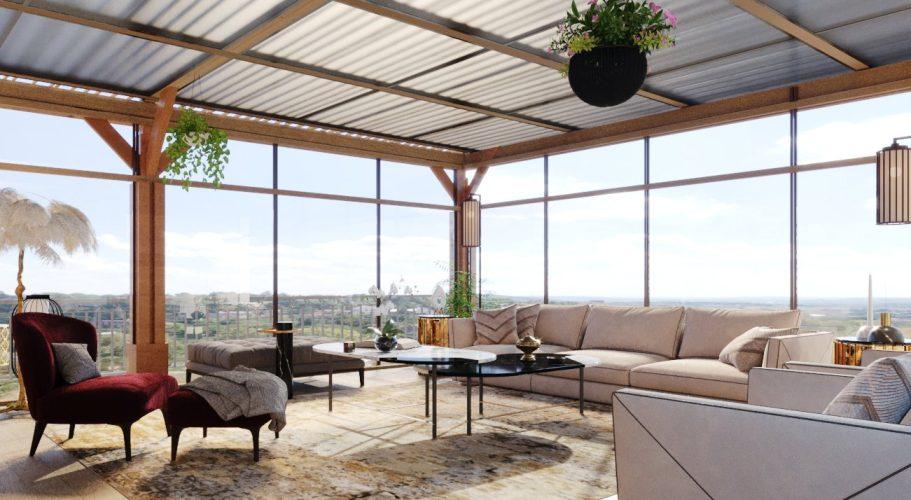 5 min read
When it comes to home interior design and decoration, seasons change, tastes evolve, and designs come and go, while some of them persist. 
As the new year is here, you might be enthusiastic to change the look and feel of your house, this is where timeless interior design trends step in.
Timeless elements of design help you create a look that will endure the test of time and trends. From furniture and decoration pieces to wall art and color palettes, a timeless design remains flexible and beautiful over the years. 
1. Open floor plan design 
An open-floor area allows excellent flexibility in terms of design and creates a seamless transition from one space to the next. If you are renovating or building your home, consider an open floor plan design as it comes with great benefits. 
This way, you will be able to decorate in a unified aesthetic across all areas of your house, from the living and dining rooms to the kitchen. 
Open-plan interiors work best when you are carrying elements such as color palettes, flooring, or lighting throughout all adjoining spaces. If you lean more into visual separation, you can use materials, colors, or furnishing to define a certain space. 
2. Neutral colors for walls and furniture
An easily achievable yet cutting-edge way to kick-start your timeless interior design journey. If flexibility is what you are looking for, then go with neutral shades for your walls and furniture. Neutral colors are timeless because they work with almost all styles, color palettes, and designs. 
As your taste changes and evolves throughout the years, you might like spicing up your space without going through the hassle of repainting or getting new furniture. A natural-colored wall and furniture palette allow you to introduce new colorful throw pillows, rugs, art, and accessories around your home that will completely change your interior look.
This one is great for homeowners who like to decorate or re-decorate often, especially around the changing seasons.  
3. Mixing old and new 
A revolutionary practice that will make all the difference in your home. Do not be afraid of blending old and new pieces together, for that is a key practice to achieving a timeless interior design. This way, your home decor will look like it spans multiple decades or even better, not be tied to any particular one. 
When used in a modern-day setting, antique pieces can still look great and even become timeless, adding an interesting, sophisticated flair to your living space. 
Pairing vintage pieces with contemporary accents will create that ageless look your house needs. 
A couple of examples of how to mix pieces from different eras and styles and get a timeless feel: placing modern wall art over an antique furniture piece or throwing a beautiful old rug under a contemporary sofa of clean lines. 
4. Trendy colors and patterns as accents 
Choosing timeless decorating styles does not mean that you never have to embrace any new trends! It is, on the contrary, an intelligent way of decorating away from one particular trend and limiting your options. 
A timeless interior allows you the flexibility to change things as your style and taste evolve. So, go ahead, do not be afraid to express yourself and make your living space reflect your personality and lifestyle – paint that accent wall using the hot color of the year, buy some new pillow covers with the trendy pattern, and update your decorative accessories if you wish to easily transition from one style to another. 
All these added elements can be easily swapped when you are sick of them, or when you feel like decorating for a specific season or theme.  
5. Built-ins 
Embracing built-ins is a great way to make your space more functional, make room for tons of storage, and add a crisp and timeless feel to your interior look. It is no wonder that they have been a highly desirable feature in homes for decades, and you better be sure that they are not going anywhere anytime soon. 
Built-ins have a way of creating a cozy and grounding feeling in a room. Picture built-in bookcases around a fireplace, library shelves in an office, or window seats in the reading area; you just cannot go wrong with built-ins for an ageless, enduring look.
Pro tip: if you have older built-ins that you are not particularly in love with, throw a coat of fresh paint to revive and modernize them, and you can thank us later.
6. Incorporating natural materials 
As it is our philosophy at Joe Aoun Architecture, we build living spaces that are inspired by the nature around them, inside and out. That is why most of our projects have natural elements incorporated in the interior design, and so, it is only natural for us to include this simple, yet game-changing tip. 
Wood, stone, baskets, plants, raw and organic textiles, and many other natural elements are key actors in fashioning a timeless interior. They also allow you to create a cozy and complete living space. 
A good thing to remember when juggling natural elements in interior design is that finding the right balance is essential, so make sure you do not go overboard using one too many natural features.  
7. Less is more 
Last but not least, avoid overcrowding. If you follow yearly trends in home interior design, then you must know one thing for sure: clutter has never been a good look in any decade or style. To create a timeless design, you must have a crisp clean, clutter-free living space. 
In order to achieve that, keep your decor simple and streamlined and make sure there is always room to move and breathe. It might be harder than you think, but you have to resist the urge to fill every empty or blank space.
As much as visual interest is important in a room, breaks and soft places where your eyes can land are as equally as important.  
Keep in mind that it is always best to refer to a professional when it comes to redecorating, renovating, or even building your home from the ground up. 
For that reason, our team of architecture and interior design experts is at your disposal, so get in touch and let's make your dream home come to life.